DIRT TRAILS, CRACKED STAIRS, PAVED SIDEWALKS, EVEN MOVING WALKWAYS. THROUGHOUT CALIFORNIA, MYRIAD PATHWAYS MARK THE WAY TO SOME OF THE STATE'S MOST WELL-KNOWN SCENES.
At UCI, they wind the campus, encircling Aldrich Park where, on a quick walk through, you'll experience a microcosm of our world's wonderfully complex human diversity. Students from 15 to well past 50 years of age representing every race, religion, socioeconomic background, and political belief converge on the southern California campus to pursue an education that opens the door to infinite possibilities.
Their university admission often belies the difficult path many forged to get here - one intertwined with pressing issues like access to healthcare, affordable housing, adequate income, equal education. Regardless of hometown, country, or continent, these issues span the whole of humanity, from first breath to last, oftentimes running generations deep. They are truly boundaryless, and these lived experiences mark much more than the walkway beneath the traveler's feet.
The UCI School of Social Sciences is home to some of the world's leading experts, brightest up-and-coming minds, and top-notch research facilities committed to understanding and solving these complex societal issues that impact so many. Massive amounts of data - both qualitative and quantitative - are helping them discover trends that explain the long-term effects of incarceration on families, the causes and consequences of homelessness, and what happens when we increase the minimum wage. From hosting one of only 29 Census Research Data Centers in the country, to fostering studies on immigration and supporting student programs that make education achievable and affordable for first-generation college students, UCI social scientists are dedicated to understanding and addressing the foundations of inequality, and helping advise and design policy that stops it in its tracks.
We're seeking your help to forge new pathways for our students, their families, and the billions of people in our world whose trajectories don't have to be set in stone.
Help us step up. •
---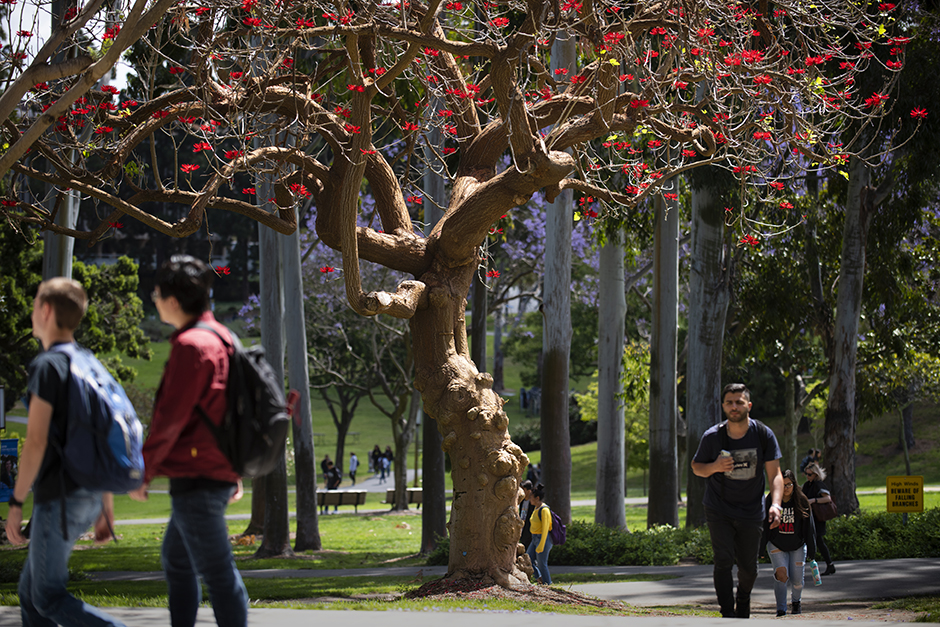 Students from 15 to well past 50 years of age representing every race, religion, socioeconomic background, and political belief cross paths in Aldrich Park on their pathways to an education that opens doors to infinite possibilities.

UCI social scientists are working hard to uncover and unravel inequality's underpinnings. For sociologist Kristin Turney, this means taking a deep dive into the long-term penalties of parental incarceration and the often overlooked health disadvantages it causes for their children. Learning disabilities, ADHD, behavioral and conduct problems, developmental delays, and speech and language problems are all very real outcomes children face when their pathways intertwine with parental incarceration. Given its unequal distribution across the U.S. population, she finds incarceration to be a major player in creating racial and social class inequalities in children's health.
And that's an issue that touches more than 2.6 million U.S. children who have a parent in jail or prison at any given time. She's also studying mental and physical health risks foster children face in comparison to peers. Her work has found that developmental delays, learning disabilities, behavioral problems, asthma, obesity, and depression are all experienced at greater rates among children who are placed in foster care.
David Neumark, economics, is leading a new organized campus effort to understand the causes and consequences of socioeconomic inequality. Under the auspices of the Center for Population, Inequality, and Policy, 26 faculty representing five schools and units on campus will study widening gaps in economic, educational, health, and other outcomes among the U.S. population and in other countries. Research within the center will serve as a guide for policies and other strategies designed to improve well-being - including employment, education, health, housing, and income - of the less advantaged. His own work is currently focused on age discrimination in the employee hiring process. His research, which has found evidence of negative stereotyping, lay-offs among higher-paid older workers, and bias in hiring practices – particularly among older women – makes a compelling case that employment barriers do exist for older workers.
Supporting work that's part of our population science research initiative will help us shed light on these and other issues and inform policy to alleviate them. •
---
BIG DATA AND MATHEMATICS
The power of big data and mathematics can be felt in every discipline – from science and engineering to technology, money, and daily life. Applications span aircraft design, information technology, and data analysis to research in bio-medical applications, climate change, economics, and social behavior.
We're seeking support for our Institute for Mathematical Behavioral Sciences, Center for Population, Inequality, & Policy, and Experimental Social Sciences Lab, and establishment of a new institute that will enable long-term contributions to mathematics research and education to solve real-world problems through interdisciplinary efforts. •
---
AREA STUDIES
As we seek to understand the pathways of populations worldwide, we will need to fill curricular and research gaps across campus.
Israel Studies
The school seeks to enhance its expertise with the creation of an endowed faculty chair in Israel Studies. This faculty chair would constitute a key component of a new international area studies paradigm, one that creates and sustains cross-regional and interdisciplinary research discussions across diverse constituencies. The program will build strong ties with Israeli academic institutions to develop a world class modern Israel studies program, encourage scholarship, research, and exchanges in Israel studies by younger scholars, and integrate the study of modern Israel into the general curriculum of the social sciences and at the same time collaborate with the offerings in Jewish Studies within the humanities.
China Studies
The same notion guides our goal to create endowed faculty chairs in China Studies. UCI already possesses significant assets in Chinese art, history, culture, integrative medicine, technology, and business. An endowed faculty chair in China Studies will leverage the success of the Long U.S.-China Institute to identify, cultivate, and establish interdisciplinary China-related Centers of Excellence across campus.
Sikh Studies
And under the chairship of Anneeth Kaur Hundle, the newly named Dhan Kaur Sahota Presidential Chair in Sikh Studies at UCI, Sikh Studies also seeks to deepen the public's understanding of religion, culture, immigrant incorporation, and civil rights issues. •
---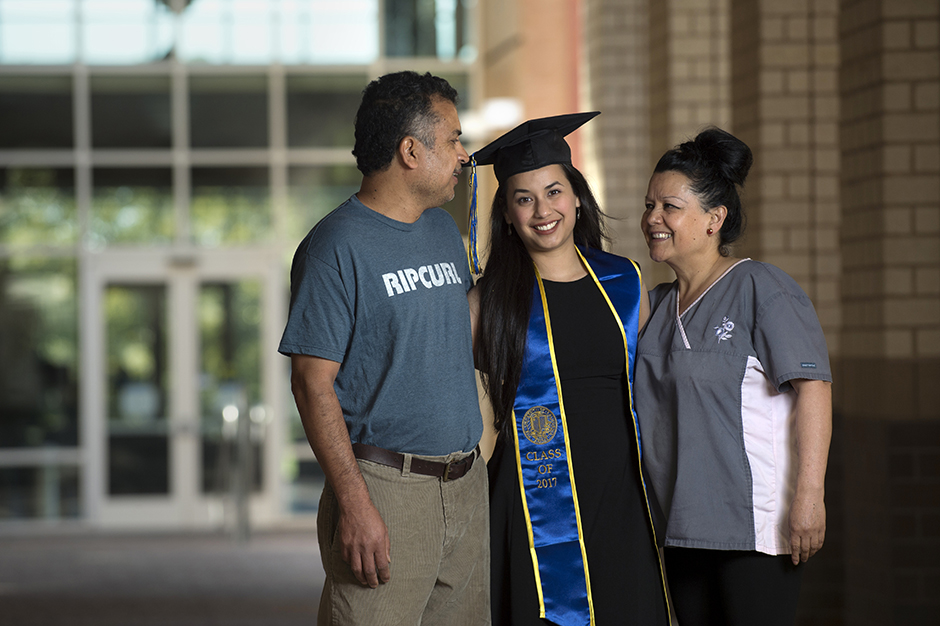 Once an insecure first-generation student at UCI, Daniela Estrada '17 is now a confident Fulbright and Truman scholar taking on law school.
STUDENT PROGRAMS
Admission to UCI marks a pinnacle in entering students' lives. But the challenge for many isn't over with their first days as an Anteater. When a student is the first in his or her family to go to college, the path to successful graduation isn't always clear. UCI social sciences has championed multiple student programs aimed at helping these first-gen students achieve their UCI degrees and move forward to their vision of the American dream.
First Gen, First Quarter Challenge
The FGFQ program offers opportunities for first-gen social sciences students to succeed in their first year at the university. The program was developed by social sciences students, staff, and faculty who were also the first in their family to attend college. They know firsthand what it takes to succeed at UCI and are eager to offer their support, guidance, and friendship to other first-gen students as they settle into the university.
Summer Academic Enrichment Program
SAEP is an intensive, five-week on-campus residential program designed to enhance the academic experience of first-gen university students. There is no out of pocket expense to participants for this program; all costs are covered by financial aid and program funding. SAEP is a landmark program on the UCI campus and represents a successful model that offers a rigorous research experience. Participants receive eight units of academic credit toward graduation. Functioning as an "academic bootcamp," SAEP strives to help students strengthen analytical and research skills that prepare them for academic research; orient them to graduate education; and prepares them for working with historically underserved and underrepresented communities through volunteerism and internships.
UCDC
The UC Washington Center (UCDC) is a multi-campus residential, instructional and research center that provides students and faculty from the University of California with opportunities to study, research, work, and live within Washington, D.C.'s rich cultural, political, and international heritage. The program is housed in an 11-story building in a lively neighborhood a short walk from the White House with room for more than 270 students. Students spend a term in residence at the center working and studying in the D.C. metropolitan area. As interns with Congress, the White House, cabinet agencies, advocacy groups, non-profit organizations, scientific laboratories, and the news media, students gain firsthand exposure to the American political process while attaining valuable work experience. Students take courses to fulfill the academic component of each campus program. Many write and present comprehensive research papers based in part on their internship experiences.
SURP
The Summer Undergraduate Research Program (SURP) provides funding for UCI undergraduates from all disciplines who are conducting summer research projects or creative activities under the guidance of UCI faculty members. The program offers students the opportunity to become immersed in a research topic for a full-time ten-week period, or the equivalent of 400 hours. •
POPULATION SCIENCE
- - - - -
structure & initiative breakdown
- - - - -
TOTAL NEED: $49m
Population Science Research
Need: $10m
$6m (3 endowed chairs, $2m each)
$4m endowed research funds

Big Data and Mathematics
Need: $20m
$15m to establish new institute, supports staff, programming, and research
$5m+ for endowed chairs, endowed research funds, and naming opportunities in Economics and Sociology, the Institute for Mathematical Behavioral Sciences, the Center for Population, Inequality, & Policy, and the California Census Research Data Center
Area Studies
Need: $15m overall

China Studies
$2m endowed faculty chair
$1m endowed research fund

Israel Studies
$2m endowed faculty chair
$1m endowed research fund

Sikh Studies
$1m endowed research fund

Center for Asian Studies
$5m naming opportunity
$2m endowed faculty chair
$1m endowed research fund
Student Programs
Need: $4m overall

Summer Academic Enrichment Program
$1m ($100K+ endowed scholarships)

UCDC
$1m ($100K+ endowed scholarships)

First Gen Student & Faculty Programs
$1m ($100K+ endowed scholarships)

Summer Undergraduate Research Program
$1m ($100K+ endowed scholarships)