THE GIANT SEQUOIAS OF CALIFORNIA ARE AN ABSOLUTELY BREATHTAKING SIGHT TO BEHOLD. THE ROOT SYSTEM OF JUST ONE HAS BEEN KNOWN TO COVER MORE THAN AN ACRE OF LAND IN AN EFFORT TO SUPPORT THE ICONIC GOLDEN STATE TREE.
Their resiliency to thrive, weathering thousands of years of natural and man-made elements, is truly miraculous. The same can be said for the human spirit. In the midst of global conflict and chaos created by power and political struggles, economic and racial inequality, resource scarcity, and religious strife - the sheer magnitude of which affect us all - humanity perseveres. Understanding these roots of conflict and identifying ways to alleviate them while elevating those who are most impacted requires a boundaryless approach.
The UCI School of Social Sciences is home to some of the foremost experts on topics like population, policy, and politics in China, global threats posed by misinformation campaigns, warfare and human rights, pollution, economic turmoil in the European Union, and humanitarianism, development, and AIDS in Africa, to name a few. Their research pursuits extend far and wide as they seek to understand the volume, causes, and consequences of some of the heaviest global topics. The school's dynamic student programs then take this information and spread it through experiential learning programs that reach populations from local Orange County high schools to refugee camps in contested regions.
We're seeking your help in growing our ability to tackle some of the most pressing global issues. Through research and student program support, you will play a critical role in extending the reach of our work that gets to the heart of the human spirit that thrives in every single one of us.
Help us reach higher. •
---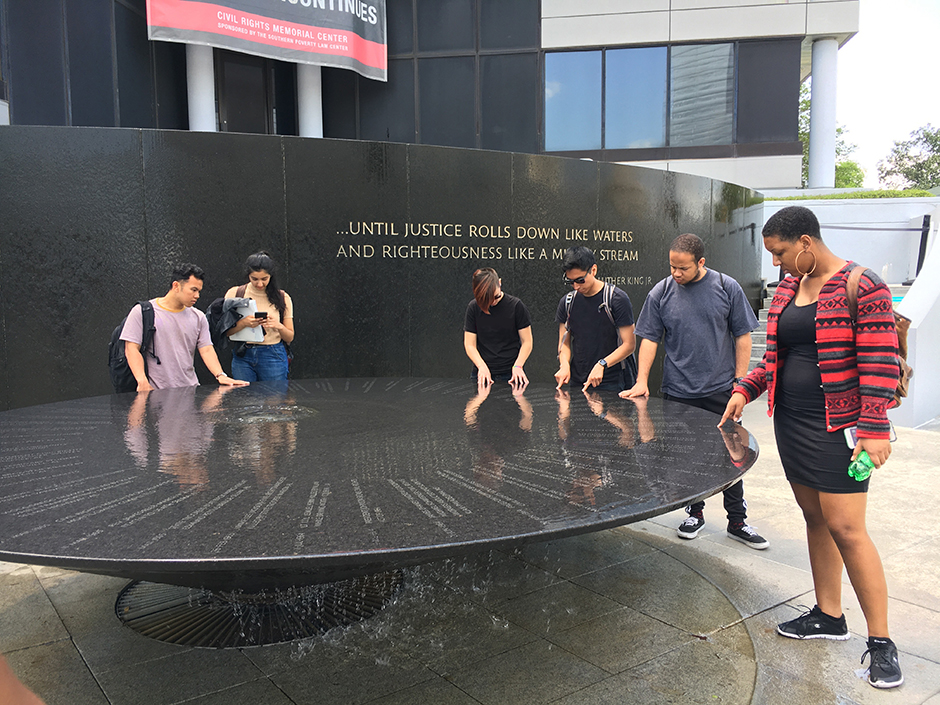 The Deconstructing Diversity Initiative prepares students to engage in a diverse environment by providing opportunity for meaningful intergroup interactions.

Gender equity. Religious freedom. Water rights. Politics and race. War and human rights. Social uprisings and movements. Misinformation campaigns. From anthropology, Chicano/Latino studies, and economics to global studies, philosophy, political science, and sociology, UCI social scientists pursue research that gets to the root causes of conflict and their lasting consequences.
Like Daniel Brunstetter, political science, who studies the ethics of war and the use of drones. He was quick to pounce on a new U.S. executive order revoking the public reporting requirement of civilian causalities as a result of drone strikes. Writing extensively on the topic, he pushes for more transparency in warfare policy that recognizes the importance of civilian casualties so that the true costs of war are known.
In logic and philosophy of science, professors Cailin O'Connor and Jim Weatherall are shedding light on the dangerous misinformation age in which we currently live. From a simple "like" on social media to a damning headline of false facts on national news, contributors - unknowing and otherwise - to the rise of fake news can be found everywhere from high school desks to bullpens at some of the most reputable news agencies. Through on-going research, O'Connor and Weatherall study how the seeds of misinformation are planted, who some of the biggest culprits are, and how we can all work to kill it before it grows legs.
In water-conscious Southern California, conservation is a very hot topic. UCI anthropologist Valerie Olson is working with joint-powers water agencies in the state to understand how water is thought of, used, and conserved by people living and working within its boundaries. Her aim: to increase hydro-social justice by finding out how underserved communities think about and use water. This can change the way water management companies worldwide interact inclusively with people they deliver vital services to, ultimately increasing conservation and making its benefits more equitable.
Also in anthropology are Kim and Mike Fortun who are tackling environmental risk and disaster. They use experimental ethnographic methods to understand how people in different geographic regions and organizations deal with environmental problems, health risks, and major disasters. Their fieldwork has spanned highly populated regions in India and the United States focusing on catastrophic disasters and more recently on slower moving disasters, including air pollution. Through research, they've found that air pollution - recognized as a major killer of people worldwide - has reached dangerous levels in India and is responsible for a growing number of health concerns.
And this is just a sampling of the work being done by UCI social scientists. Supporting emerging conflicts research through named chairs, fellowships, and scholarships allows these critical studies to extend beyond their current reach to impact more global citizens. •
---
EXPERIENTIAL LEARNING

The research in action branch of social sciences is truly evident in the school's experiential learning programs which aim to promote diversity and the understanding of different races, ethnicities, orientations, religions, and abilities.
The school is preparing the next generation of strategic thought leaders through learning that is both social and educational in a way that "humanizes" the other, creating a more robust community where diplomacy, critical conflict analysis, and strong friendships combat prevailing simplistic narratives.
DIRHA
The newly launched Diversity, Inclusion, & Racial Healing Ambassador Program (DIRHA) is a high school program that aims to foster empathy, promote cultural humility, and reduce stereotyping among youth. Students involved with DIHRA attend UCI faculty- and staff-led seminars focused on making complicated topics – such as race, gender and religion – digestible, thought provoking, and age-appropriate. The program equips participants with tools to navigate bias, identity, and hate while being inspired to celebrate diversity, with guidance from UCI faculty, staff, and undergraduate student mentors, as well as field trips.
With more informed perspectives, DIRHA participants create and implement campus projects that seek to foster a climate of inclusivity and equity. The goal is to build empathy, cultural competency, and leadership skills among high school participants so that they can pass on their knowledge to their peers.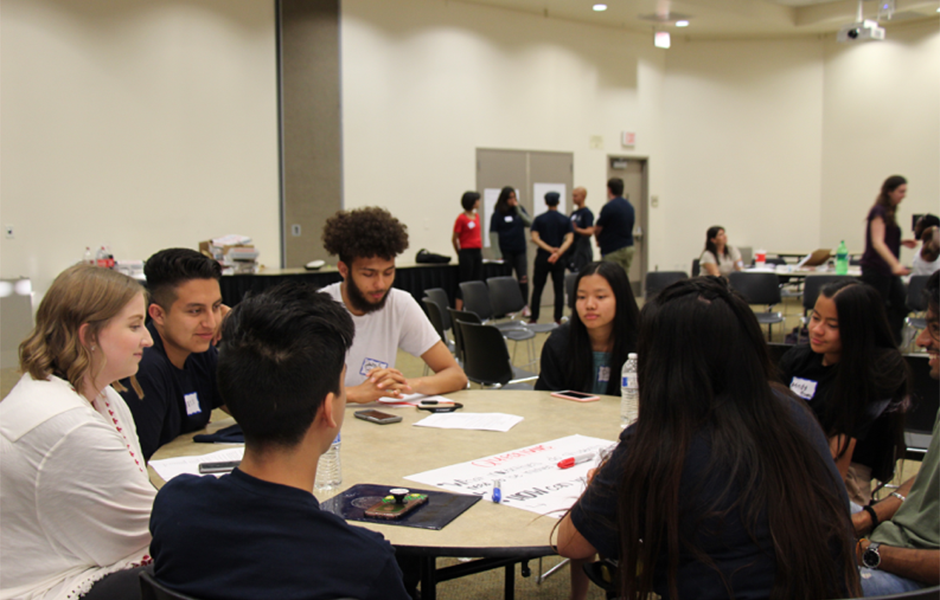 Orange County high school students participating in DIRHA work with a UCI mentor to develop a project that promotes understanding of different races, ethnicities, sexual orientations, religions, and abilities among their peers.
Deconstructing Diversity Initiative
The Deconstructing Diversity Initiative (DDI) is a program inspired by the Olive Tree Initiative, with a U.S.-based twist. A cohort of students are chosen each year to take part in an intensive seminar series and then travel to sites of historical and contemporary importance to the experience of race in America. By pairing classroom learning with travel experience across the U.S., DDI provides college students as well as community and campus participants the education, training, and experiences that enable them to better understand, negotiate, and resolve racial and ethnic tension.
Supporting experiential learning programs like these directly impacts thousands of lives. •
EMERGING CONFLICTS
- - - - -
initiative & need breakdown
- - - - -
TOTAL NEED: $21m
Emerging Conflicts Research
Supports research on our most pressing global issues.

Need: $10m
$6m (3 endowed chairs, $2m each)
$4m endowed research funds

Experiential Learning Programs
Need: $11m overall

Diversity, Inclusion, and Racial Healing Ambassadors
The Diversity, Inclusion, and Racial Healing Ambassador Program aims to foster empathy, promote cultural humility, and reduce stereotyping among youth. Students involved with DIHRA attend UCI faculty- and staff-led seminars focused on making complicated topics – race, gender, religion – digestible, thought provoking, and age-appropriate.

Need:
$5m naming opportunity
$2m endowed faculty chair
$1m (100K+ endowed scholarships)

Deconstructing Diversity Initiative
The Deconstructing Diversity Initiative promotes improved race relations by raising UCI student awareness of U.S. diversity, equity, and inclusion through academic preparation, dialogue, experiential education, and leadership development.

Need:
$2m endowed faculty chair
$1m (100K+ endowed scholarships)