A WATERSHED STUDY
UCI anthropologists conduct first of its kind large-scale study of Southern California community water understanding and use

Fishing, machine cooling, irrigation, and of course drinking are just a few of the many ways in which people use water. And getting to know how water is used is one of the first steps in learning how it can be shared and conserved – a precautionary action particularly important to the people and agencies tasked with its care.
In water-conscious Southern California, that job belongs to the Santa Ana Watershed Project Authority (SAWPA) – a joint-powers agency formed by five water districts within the Santa Ana River watershed. The agency enlisted a team of university and non-profit partners – including UCI researchers – to gain a better understanding of how water is thought of, used, and conserved by people living and working within its boundaries.
"Water management is a collective process that includes people who use it and people who provide it," says UCI anthropologist Valerie Olson who specializes in research on the anthropology of environmental systems. Her prior work has looked at how groups relate to large spaces – like outer space and marine areas.
She's one of the lead researchers on a three-year, $6.3 million project funded by SAWPA's Disadvantaged Community Involvement Program.
"This project aims to improve the collective process and increase hydro-social justice by finding out how underserved communities think about and use water. This can change the way water management companies interact inclusively with people they deliver vital services to. Ultimately this can increase conservation and make its benefits more equitable," she says.
We all live in watersheds - areas of land that drain runoff from snow and rain into a central water body, like a river or lake. UC Irvine sits within the Santa Ana River watershed which encompasses 2,840 square miles of semi-arid coastal plain, hot and dry inland valleys, and highland mountains and streams, all of which drain into the Santa Ana River. The footprint stretches from the San Gabriel and San Bernardino Mountains on the north to the San Jacinto Mountains on the east and Santa Ana Mountains to the south. It empties into the Pacific Ocean at Huntington Beach, marking an expanse of land that's bigger than the state of Delaware, and nearly twice the size of Rhode Island. The area is home to over six million people, which would make the Santa Ana River watershed the 19th most populous state. By any measure, the area is massive, and efforts to understand how the diverse people who call it home think about and use water is a big undertaking, says Olson.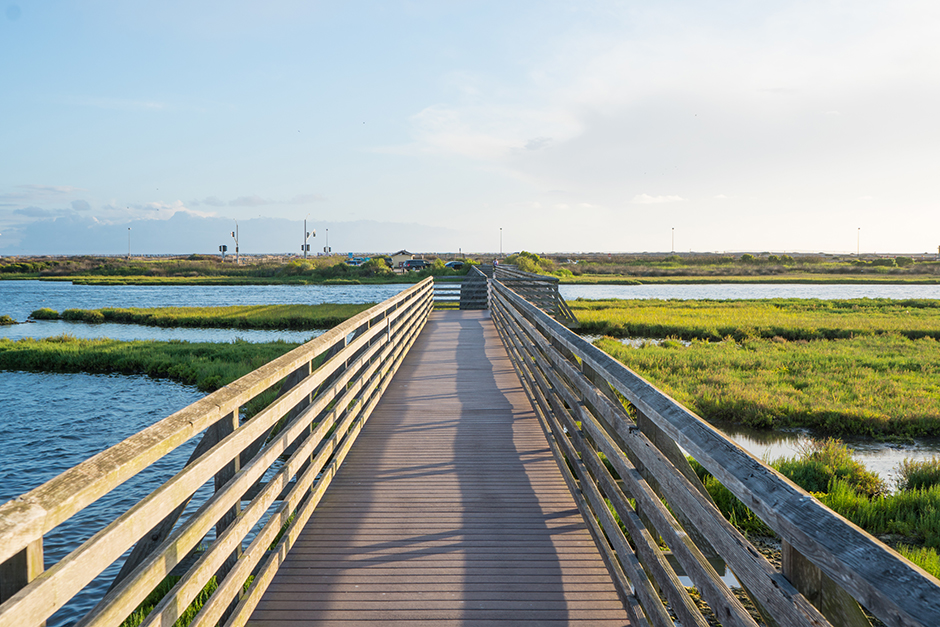 "Water management is a collective process that includes people who use it and people who provide it," says UCI anthropologist Valerie Olson who specializes in research on the anthropology of environmental systems.
"Thinking about how to manage and conserve water at this scale shows us that our water system reaches far beyond the pipes that deliver water to our homes," she adds.
Olson is working with Emily Brooks, a postdoctoral scholar who completed her anthropology Ph.D. at UCI, to design a "community water ethnography:" a qualitative strengths and needs assessment of communities in the watershed. The two are collaborating with researchers from Cal State Bernardino and Fullerton, as well as non-profit partners at the Local Government Commission, the California Rural Water Association, and the Water Education Foundation, to carry out the assessment. The community water ethnography includes training for a team of water and policy professionals, fellows, and student interns to conduct the community-engaged ethnographic research. The researchers will coordinate with SAWPA to develop an engagement and education program, tailored by the research findings.
"This project is one of the first of its kind in California. We're working at a large scale, collecting ethnographic data on underserved and underrepresented communities across the watershed, building relationships with people in those communities, and developing specific recommendations to increase well-being and promote environmental justice," says Brooks. "Water agencies will learn about strengths, needs, and opportunities from the communities they serve, and people living and working in those communities will learn how their participation in the water management process can help bring needed change to their communities."
When the project is complete, the researchers hope it will serve as a feasibility study or roadmap for future ethnographically-informed assessments, and help local water agencies develop more equitable best practices for responding to individual communities' needs and strengths.
SAWPA is looking forward to the findings, which it plans to include in its updated stakeholder-driven One Water One Watershed (OWOW) Plan for how to sustainably manage all aspects of water in the Santa Ana River Watershed.
"Benefitting from the expertise of partners like UCI, this program will ensure that members of low-income and overburdened communities contribute their voice to the decisions made about water in the Santa Ana River Watershed," says Mike Antos, Senior Watershed Manager at SAWPA. •