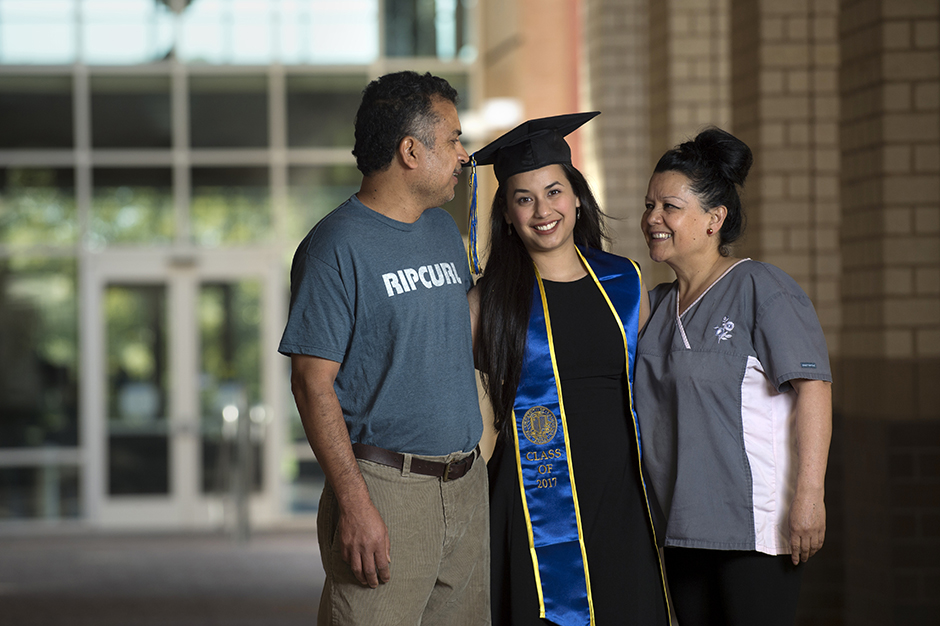 Once an insecure first-gen student at UCI, Daniela Estrada '17 is now a confident Fulbright and Truman scholar ready to take on law school.
A LIFE TRANSFORMED
From national funding awards to campus programs, aspiring lawyer Daniela Estrada '17 says a UCI degree would not have been possible without the tremendous help she received in pursuit of her education

By age 8, Flavio Estrada was picking tobacco in the fields of Mexico. He yearned to join the other little boys and girls going to school, but his family couldn't afford it. He never got the chance. Fast-forward 46 years: His daughter Daniela graduated in June 2017 with high honors in political science and was named both a Fulbright and a Truman scholar.
"I'm extremely proud of my daughter and all her accomplishments. I know she's not stopping here. She has dreams that are even bigger than this," says Estrada, who works 60-hour weeks as a cook in Orange County. He has ceaselessly urged his children to seek education: "I always tell them, 'Your mother and me, we have struggled, and we have put our bodies to work. Be smart; use your mind.'"
UCI alumna Daniela Estrada says her father's words and both her parents' hard labor have provided powerful motivation. Combined with an array of mentoring and other resources offered by UCI, it put her on track to achieve what was once a "faraway dream" to be a lawyer.
Cultural shift
Estrada transferred from Golden West College to UCI as a junior. She loved the campus's big, beautiful buildings and friendly people but was intimidated. Estrada had felt that before as the youngest child of working poor parents in a coastal resort town. She was stunned when she went to friends' large homes to study and could see the surprise in their faces when they came to her family's rented apartment.
Orange County's demographics have shifted markedly: More than half of all residents now are nonwhite, according to recent census figures. "There are a lot of Hispanics in Garden Grove, Anaheim, Santa Ana – and Vietnamese," Estrada notes.
"We're a big population of first-generation immigrants, and we're a big part of Orange County, too."
Her father arrived in the U.S. seeking work at 14 and has been a cook at Huntington Beach's popular Sugar Shack Café for decades. Her mother, Estela Estrada, does laundry at an assisted-living facility. They both became U.S. citizens via President Ronald Reagan's amnesty process. "I have seen my parents work long hours doing manual labor my entire life," Daniela Estrada says.
She brought their work habits with her to college and it paid off in spades. After graduating in 2017, she flew to Colombia to begin her Fulbright project, teaching English in the nation's capital. When she returns, she plans to attend law school and become a public defender to help indigent people accused of crimes. She was the only University of California student – and one of just two Californians – selected in 2016 for the prestigious $30,000 Truman Scholarship, awarded for graduate studies related to public service.
I account my achievements to the public servants and professors who have mentored me throughout my time in higher education, as well as the assistance I've received from public service organizations I've been a part of.
'You can do this'
Estrada's path wasn't easy. Many first-gen college students experience loneliness and self-doubt, and motivation and grades can suffer the first semester, according to published research. Quick intervention can make the difference. In her case, the SAGE Scholars Program provided friendships, counseling, and invaluable support. "I had this faraway dream of wanting to be an attorney. It seemed impossible. A classmate told me about a clerk job at a law firm, but I was so intimidated," she recalls. Estrada explained to the SAGE director that she wanted to apply but had nothing to offer. He set her straight. "You can do this," he said – and then coached her through preparing a resume.
She landed the job and went on to intern with both the county district attorney's office and UCI's Saturday Academy of Law, showing Santa Ana high school students that legal careers are possible. The experiences confirmed that law is her true calling. The profession offers prestige and decent pay, Estrada says, "but beyond that, I really like it."
Social mobility
UCI is one of the top colleges in the nation whose students experience huge income growth after graduation. Anita Casavantes Bradford, UCI associate professor of Chicano/Latino studies, says that Estrada's transformational journey reflects a key role played by the University of California and other colleges: as engines of social mobility that educate a workforce and create critical thinkers to play key roles in a democracy.
"It's important that students who are smart and committed get a chance to come to universities … to learn to make arguments, to clarify their thinking and their values," she says. "It's not just about making a living, but about sitting on school boards, seeking public office, and making policy and law." For Estrada, that certainly rings true.
"I account my achievements to the public servants and professors who have mentored me throughout my time in higher education, as well as the assistance I've received from public service organizations I've been a part of," she says. "If it wasn't for that, I wouldn't have been able to be at UCI. And I think that has motivated me to help others and be a public servant – because I see how powerful it is." •