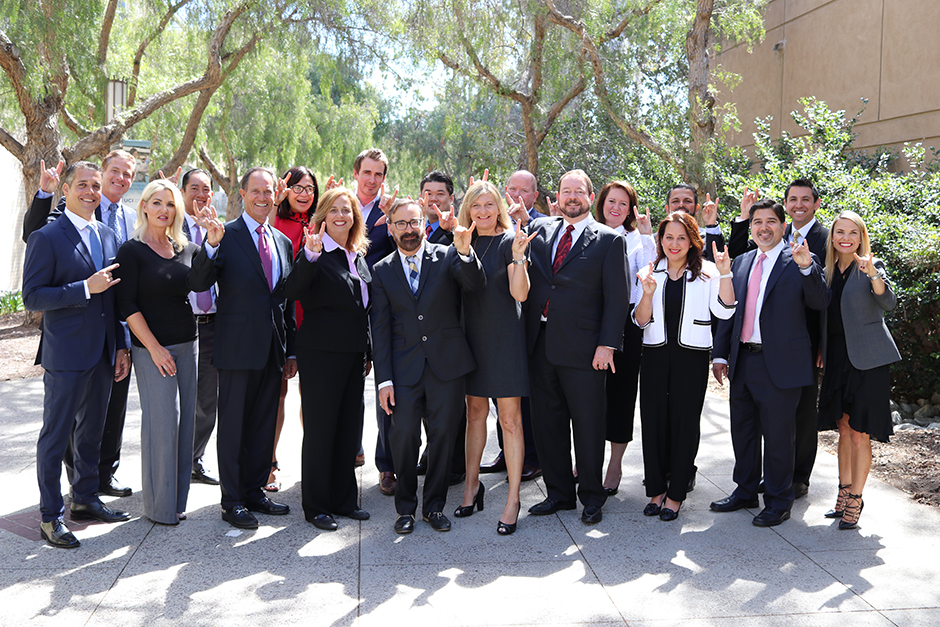 DEAN'S LEADERSHIP SOCIETY
Bold. Mold Breakers. Mavericks. Leaders in philanthropy.

The Dean's Leadership Society in the UCI School of Social Sciences provides an opportunity for alumni, parents, community, faculty, and staff to support the school, its programs, faculty, and students at various commitment levels while receiving special recognition and opportunities to engage in the school's growth. Members join an influential and diverse network of supporters and like-minded individuals who are deeply committed to enriching national prominence and fostering a new tradition of excellence. Some of the school's areas impacted through DLS membership dues include:
Scholarship support for worthy students
Support for scholarships helps ensure the school's continuing ability to attract and retain students of the highest caliber. This support can help directly enhance undergraduate education with hands-on experience in labs, seminars, and award-winning programs like UCDC, Mock Trial, Global Connect, and the Summer Academic Enrichment Program. At the graduate level, it helps us compete against UC Berkeley, Carnegie Mellon, and Harvard - schools our Ph.D. students have turned down to attend UCI.
Critical research projects
Our programs are supported by highly competitive federal government and private foundation grants, state and local governments, and private donors. As government funding declines, generosity from individual donors at all levels becomes more important than ever before.
Recruitment & retention of world-class faculty
The School of Social Sciences has attracted top notch faculty who are building robust measures, innovative models, and powerful methodologies for understanding the human condition in a diverse and digital age. We are now routinely faced with raiding efforts from top universities in the country, including the University of Michigan, Stanford, and the other UCs.
Needed resources to pursue new initiatives
The school's openness to new approaches and collaborations has kept it nimble and at the cutting-edge in fields as different as transportation economics and cultural anthropology, the philosophy of physics and biology, and the sociology of mass movements. And our faculty, graduate students, and undergrads are discovering new connections every day.
Learn more at www.dls.socsci.uci.edu and contact us directly to get involved. •