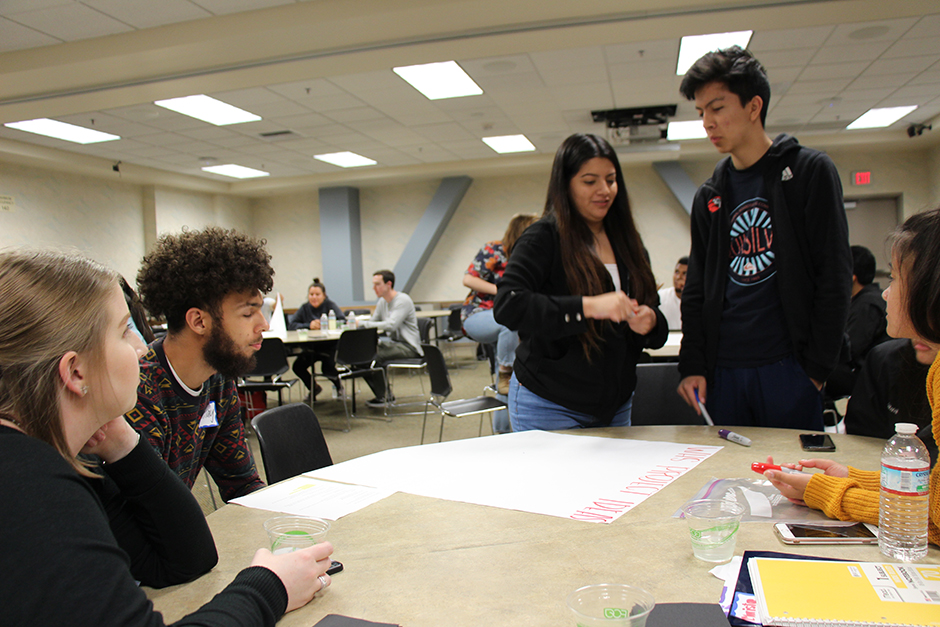 OC high school students participating in DIRHA work with a UCI mentor to develop a project that promotes understanding of different races, ethnicities, sexual orientations, religions and abilities among their peers.
program feature:
CATALYSTS FOR CHANGE
Local high school students participating in UCI's new Diversity, Inclusion and Racial Healing Ambassador Program are countering stereotypes

As news of race-based protests and violence in Charlottesville, Virginia, began to unfold in August 2017, the country watched in horror as another act of hate claimed the life of Heather Heyer.
The moment was a tipping point that led the Samueli Foundation to donate $300,000 to UC Irvine in 2018 to launch the Diversity, Inclusion & Racial Healing Ambassador Program. In 2019, the Samuelis committed another $300,000 for its work. And more than $100,000 in additional grants have come in from the California Wellness Foundation, the Orange County Community Foundation, and the Jewish Federation's Rose Project to support the program that seeks to reduce stereotypes through academic preparation, experiential learning, and leadership development.
High school students involved with DIRHA attend four UCI faculty- and staff-led seminars focused on making complicated topics – such as race, gender, and religion – digestible, thought-provoking, and age-appropriate. They work with UCI faculty and program mentors to develop a school project around one of those subjects and then share and discuss them at a reception for all member schools. The work helps participants build empathy and cultural competency and pass on their knowledge to peers.
"It's incredible to witness what DIRHA is doing for student participants and its potential for changing entire high schools and communities," says director Teresa Neighbors, a UCI lecturer. Last year's cohort at San Juan Hills High School, in San Juan Capistrano, launched Unity Week, a five-day lunch seminar series with speakers addressing different issues. "We had close to 200 students attend each day," says Spanish teacher Fernanda Villalba, the school's DIRHA coordinator. "The participants not only have grown as leaders but have been educated in some very important topics and exposed to new ways of thinking. Our first Unity Week was a huge success, and I know that this is just the beginning of a cultural change that, hopefully, will become a norm, uniting many more students in the future."
The two-year program that began with Orange County's El Modena, Capistrano Valley, Fountain Valley, Garden Grove, and Westminster high schools now boasts 17 participating OC high schools whose collective projects have reached more than 62,000 teens with messages of inclusion, hope and healing. The success of the program has sparked hope among so many that change can happen, says Neighbors.
"Youth have significant influence within and beyond their peer groups," she says. "By showing them how to counter actions and messages that perpetuate hate, we can alter belief systems that will last through adulthood. It's truly remarkable to watch students make such a difference at the local level that can, ultimately, change the world." •