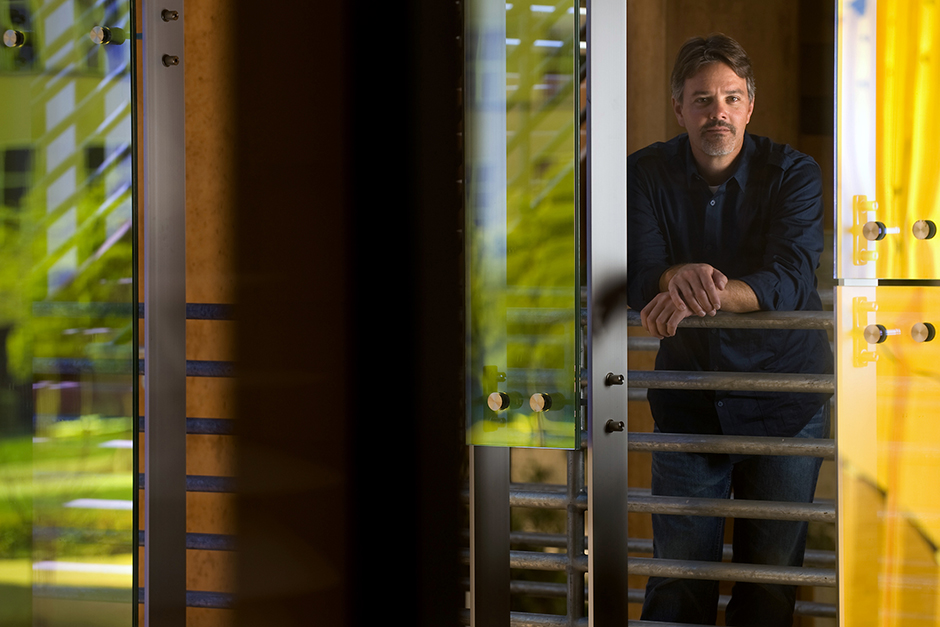 Greg Hickok, cognitive scientist, hopes to launch a graduate program in audiology and speech-language pathology to train the next generation of practitioners working directly with those impacted by hearing, speech, and language disorders.
THE BRAIN AND STROKE
Language model developed by UCI cognitive scientist may soon help clinicians better diagnose and treat stroke survivors

Each year, nearly 800,000 people in the U.S. experience a stroke – that's one person every 40 seconds. Stroke is the fifth leading cause of death, killing almost 130,000 Americans each year – that's one person every four minutes.
But there are far more who survive. In fact, current CDC estimates place the number around 7 million, making treatment ever more important for the lasting disabilities stroke leaves in its wake.
Enter Greg Hickok, UCI cognitive sciences professor. Over the last 15 years, he's received $16 million in funding from the National Institutes of Health to support research on how neural abnormalities affect speech and language in an area of the brain tied to stroke-induced aphasia.
"About one-million people in the U.S. suffer from aphasia, caused most often by stroke," Hickok says. "A stroke can cause damage to networks in the brain that enable language, which – from a scientific standpoint – is the system that translates thought into speech and speech into thought."
The result can be devastating.
"Our ability to communicate is fundamental to being human. Imagine not being able to speak or write, not being able to understand a conversation or the evening news, not being able to text, email, or Tweet. Communication is the foundation of our relationships and society; aphasia can take it all away."
Communication is the foundation of our relationships and society; aphasia can take it all away.
He's currently working with researchers at the University of South Carolina and Johns Hopkins University to better understand the nature of the various forms of aphasia, the prognosis for recovery, and how best to treat it.
The collaborative study is directly tied to clinical practice; at its end, the researchers will understand why some patients respond better than others to aphasia treatment. They'll also be using treatment approaches that are routinely employed in clinical practice, allowing for immediate translation of the findings directly into patient management.
At the same time, Hickok is also working with the University of Texas at Houston using ElectroCorticoGraphy (ECoG) – which takes direct cortical recordings in neurosurgical patients – to understand the organization and dynamics of the speech production process in great detail.
"fMRI and stroke-based methods can help us map the location of regions, but they tell us little above the millisecond dynamics of how the brain actually carries out a given task," he says. "ECoG provides very high temporal resolution recording brain signals with millisecond resolution and provides excellent spatial resolution measuring these signals in patches of cortex a few millimeters in diameter."
He's also continuing research on the subdivisions of the planum temporale region of the brain where regulation of auditory-motor processes occurs. Previous work yielded 40 publications on its functional organization in healthy young people. Now, Hickok and his team, which includes UCI faculty Kourosh Saberi, John Middlebrooks, and Fang-Gang Zeng, are looking at stroke and hearing impaired patients to study what happens when people have damage to various portions of this system.
"We're focusing on speech production, audiovisual integration, and spatial hearing," he says. "This work will both refine our understanding of these circuits and the PT region as well as help us understand the sources of speech and language difficulties following stroke."
A potential application of this better understanding, he says, is that neural prostheses - brain implants – could one day be used to compensate for lost function in some aphasia cases. The idea may seem farfetched, but considering the advancements they've made in aphasia-based research over the past decade and a half, and considering that neural prostheses are becoming a reality for some neurological disorders, the sheer possibility is welcomed news among the millions who live with stroke-induced language deficits.
And in the coming years, UCI hopes to further tap Hickok's expertise as the director of a new graduate-level program in audiology and speech language pathology. Focusing on both basic science and clinical training, the program would equip the next generation of academics and practitioners working directly with those impacted by hearing, speech, and language disorders, and fill a critical need area in both the state of California and the nation. •